Midweek Guidance I Fantasy Basketball I Razzball
[ad_1]

Welcome to your midweek guidance for Week 16!  In this post, I identify widely-available players who can help you win your head-to-head matchup.  With the trade deadline just around the corner, it's almost time to see if any of those popular long-term stashes pan out.  We've already seen one relegated to the ash heap, with the annual Myles Turner trade rumors mostly fizzling out last week.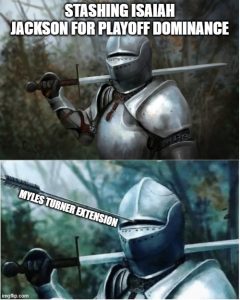 I use the word mostly because there's a small chance that I might have to eat my words (meme?).  Technically, Turner could still be moved after signing an extension.  And though Indiana's management is adamant that they're committed to Turner, we know that NBA franchises are not always paragons of honesty.  In all likelihood, however, Turner will remain a Pacer well beyond next week.
Fortunately, there are other plausible trade scenarios that will alter the fantasy landscape.  Keep reading if you're looking to lean into a couple short-term stashes that could turn into big fantasy contributors after the deadline.
The Celtics, Nets, Thunder, Spurs, and Jazz have just one remaining game before Monday, while the Knicks, Pelicans, Pacers, Nuggets, and Hornets play three more games.  Each day gives us opportunities for streaming, as Saturday's slate is the largest with nine games on.
These are the players I'm watching and adding to close out the week.
Four Category Contributors
Mark Williams (Rebounds, Steals, Blocks, FG%): The upside is tantalizing, but Williams is still playing behind Mason Plumlee in the Hornet rotation.  That may all change next week, depending on what Charlotte does at the trade deadline.  If you have a cushion in the standings and can stash someone for what could develop into a huge return in the fantasy playoffs, Williams is a prime candidate (Plays Thurs, Fri, Sun).
Alec Burks (Points, Threes, Assists, FT%): If the Pistons manage to escape the Dallas cold in the hours ahead, Burks may draw his fourth consecutive start against Charlotte on Friday.  Playing Burks 30 MPG while benching Killian Hayes screams trade bait, but we'll likely have to wait until next week to see if the former is dealt.  If the Pistons continue to showcase him in the coming games, Burks stands a good chance of sustaining the 16 points, 3.3 triples, 5.3 rebounds, and 3 assists he averaged over his previous 3 starts (Plays Fri, Sat).
Three Category Contributors
Daniel Gafford (Rebounds, Blocks, FG%): When the Pistons/Wiz game was postponed, we were robbed of a chance to see Gafford's role beside a healthy Kristaps Porzingis on a Rui Hachimura-less front line.  As I've written before, 20 minutes is all Gafford needs to be a 12-team category league asset, and I'm confident he'll exceed that mark going forward (Plays Fri, Sat).
Isaiah Hartenstein (Rebounds, Blocks, FG%): Despite ending with 5 fouls on Tuesday, Hartenstein played 40 minutes in a losing effort against the Lakers.  Mitchell Robinson's recent injury update painted a dim picture, so it's not unwise to grab one of the Knicks' backup centers with the expectation that they'll garner significant playing time through February.  While Jericho Sims presents as a good boards and FG% contributor, he's severely limited in other categories.  On the other hand, hedging Hartenstein's way allows you to potentially benefit from his passing ability in addition to traditional big man stats (Plays Thurs, Sat, Sun).
Donte DiVincenzo (Threes, Assists, Steals): At least one of the Golden State starters will rest on Thursday, which is all Donte needs to play 30+ minutes and serve up a nice fantasy line.  Even when the Warriors are at full strength, he continues to play anywhere from 25-32 minutes, making him a borderline hold in 12-team category leagues (Plays Thurs, Sat).
Larry Nance Jr. (Rebounds, Steals, FG%): Nance was back to playing good basketball in his past seven games after a series of short-term injuries curbed his early season momentum.  With the exception of an 85% free throw conversion rate, the 9.3 points, 7.1 rebounds, and 1.3 steals in 24.5 MPG over that period are consistent with what he's done historically in that amount of playing time (Plays Thurs, Sat, Sun).
Zach Collins (Rebounds, Blocks, FG%): Readers of this post know I lean more conservative when it comes to stashing lower-end players, but with how close we are to the trade deadline, Zach Collins presents as a dude who might get a big boost if Jakob Poeltl is moved.  Assuming you can afford the lack of Spurs games on Saturday and Sunday, you might be able to cash in on holding Collins through February 9th (Plays Fri).
Moritz Wagner (Rebounds, FG%, FT%): Wagner went from a hot commodity on Wednesday afternoon to a drop on Thursday morning, thanks to Wendell Carter Jr.'s 33-minute performance against the Sixers.  Still, WCJ's recurring plantar fasciitas issue should be reason enough to keep Mo on your watch list, since he averaged 13.9 points (52% from the field, 91% from the line on 3.3 attempts), 1.1 threes, 6.9 rebounds, and 1 steal across 14 December starts (Plays Fri, Sun).
Drew Eubanks (Rebounds, Blocks, FG%): Jusuf Nurkic exited Wednesday's game after playing just two minutes, so it's possible that Eubanks will draw a few starts in the coming days.  In 24 MPG over his last 7 outings, he averaged 6.9 rebounds and 2 blocks (Plays Fri, Sat).
Two Category Contributor
Chris Duarte (Threes, Steals): He lives!  It's been a disappointing campaign for Duarte after a promising rookie season had him on everyone's draft board heading into this year.  Injuries had a lot to do with that, but he's healthy now and receiving starting nods.  If that trend continues, he could meet his pre-season expectations after all, especially if he continues to produce numbers in the ball park of his past four games – 13.3 points, 1.8 threes, 4.5 rebounds, 4 assists, and 2 steals (Plays Thurs, Fri, Sun).
Hit me up in the comments with any questions or feedback!
[ad_2]